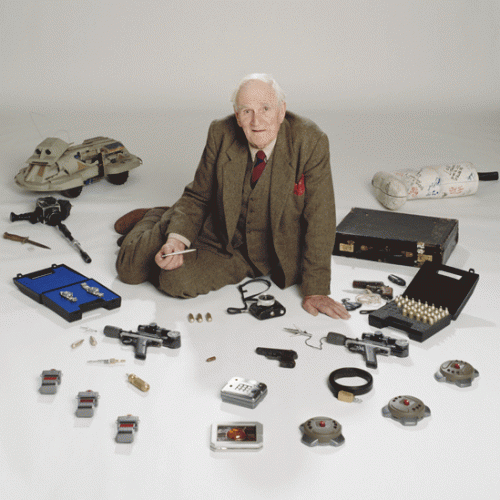 We believe our place is at the bleeding edge of the fight for social good. Everyone at Ushahidi comes to work here because we know that every day people around the world use the tools we build to improve the lives of millions. In other words, in the fight for a better world, we aren't 007, we're Q.
That was written yesterday by Chris Albon, our Director of Data Projects, as he was putting together a job description for a senior architect position
that we need to fill (ping him if interested)
.
Being Q
If you were anything like me, as a kid you wanted all that cool gear that Q was giving to agent 007, James Bond. I mean, who wouldn't want a car that turns into a helicopter, a pocket snap trap, grappling suspenders, or a watch that turns into a saw or laser? I even wanted to build things like this, and remember taking apart small electronics to get to the parts that I thought would allow me to do stuff like this. I never did get to the level of creating a pen gun or those explosive bolas that I so dearly wanted, but it did succeed in getting me to think about making things. That's what we do at Ushahidi, we make things. Whether it's the new "
v3
" version of the Ushahidi platform, an Android based texting gateway (
SMSsync
), or creating new tools like
Ping
for group emergency updates due to our own experiences here in Nairobi in the wake of Westgate, you'll find we're always building.
The Tension of "Q vs 007" to Ushahidi
There's a good argument for not trying to do everything, where the comparative advantages of certain people or groups outweigh others - and it's how they work together that makes everything better than working alone. In the years since we started Ushahidi, I often think about how big of a difference there is between the people who create the platforms and those who use them. While there is a certain amount of
dogfooding
that should be done by any platform creator, I've come to the realization that not all deployers can be creators, and not all creators should be deployers. I've also had a hard time getting this across, which is probably why I enjoy Chris' metaphor so much. In the beginning, we were making the software for our own use (circa 2008). Then we became a technology company that built the platform and kept it going for others. We stubbed our toe on a few deployments, learned some things and started saying, "we build the platform that others deploy". In 2010 we did an about face on this as we helped with a major deployment into Haiti. Then, through Patrick Meier and Heather Leson being on the team, became quite active in many deployments, even if we weren't the primary people doing the work itself. When we were in the midst of the Haiti work, it sidelined all of the team for about two weeks. The ripple effect of this was that our work on Haiti upset our development schedule by two months. What hasn't been that apparent to people outside of Ushahidi is the tension that is there to get involved in every major crisis, disaster, election and big deployment. We know we have a voice and we also have the tools and expertise to help, at the same time we're only 25 people, and we can't both create and improve the tools while we in the midst of a disaster. We don't have the resources to hire a team who only does deployments and another who only works on building the platforms needed for them. Our main role in this ecosystem is to create the valuable tools to change the way information flows in the world by lowering the barriers so that ordinary people can say what they need help for, what's happening around them, and to even self-organize to solve their problems. While we still get involved in a few deployments each year, we rely heavily upon our community of deployers to let us know what needs work, and to also help with that work as what we build is all free and open source software.