[Guest post by By Christine Broenner & Laura Morris, creators of Deployment of the Week: ICT in Conflict & Disaster Response and Peacebuilding]
Christine Broenne
r (MSc. Geography), a freelance consultant, advises on the design and use of geographic information systems (GIS) and on information management in support of decision-making in spatial development contexts. She works on issues of collaboration, information sharing and inter-agency coordination and is interested in the role ICT can play in complex, dynamic and unpredictable emergency management and crisis situations. You can contact Christine at info@whenmapsmatter.com Laura Morris is an independent researcher in crisis communication. She is currently writing up research on the ways in which people and organisations are affected by limitations in communications in political crisis situations and the ways in which these limitations can be bypassed. The research has special reference to the recent crisis in Libya and the MENA region generally.
Click for more information about this project
. She is also freelance writer for
HaitiRewired
. Laura holds a Masters in Social Anthropology of Development from the School of Oriental and African Studies in London. You can contact Laura at communicationcrisis@live.co.uk
In recent years we have transformed the way we prepare, respond to and manage disaster and conflict globally, through the rapid uptake of new technologies, the increasing use of the internet for two way communication, the prevalence of social media and the ubiquity of mobile telephony globally.
Transforming Technology in Disasters
But what has also been transforming is our understanding of the importance of timely information for creating more effective outcomes in emergency situations. How we view information has changed and the sources of emergency information has also changed. Where as once it was thought that victims of crisis were merely that – victims, it is now understood that victims can simultaneously be responders, bringing aid to themselves, as well as journalist, providing real-time reports for the benefit of the whole affected community. We have seen this famously in the aftermath of the devastating 2010 Haiti earthquake where affected people actively engaged in rescue efforts by means of purposefully using their mobile phones to coordinate and organise help, and most recently in the Arab uprisings where protesters wielding camera phones have documented human rights atrocities and state violence on
Youtube
and other social media outlets, via clandestine satcoms, in the face of severe media and communications censorship.
Syrians are the current victims of kill-switch censorship at the hands of the state regime
.
Speak2Tweet
, which uses fixed line telephony and audio texts for sending tweets, is an interesting example of how 'new' and 'old' technologies can work together through this kind of censorship. Disaster management agencies can no longer view disaster affected communities as mere dependents (for this was never the case) now that so many are equipped with the communication tools to get what they need where they need it and to make those providing relief more accountable for what they do. International agencies like
OCHA
and the
Red Cross
, as well as nationally based disaster management agencies, are
beginning to consider how community based information can be effectively gathered and used to support response efforts
. However, it is not only the people affected by disaster themselves that make use of the ever new technical possibilities to communicate and contribute information in emergency situations, it is also those members of the so called
'crowd'
, anyone networked to global communications, who want to help or have relevant knowledge that can be used by emergency response authorities. It is worth mentioning the fact that the possibilities which tech tools offer are changing continuously. This poses challenges to those working in institutionalised ways leaving little room for flexibility. Taking on board these new tools, and more so, an unpredictable new source of information, the crowd, can be a daunting prospect, but also offers a huge potential of opportunities. Many efforts of establishing how to engage with and work in concert with others assisted by tech tools are underway. Australia for example has some remarkable initiatives that are focusing on the
use of social media
for information gathering and dissemination during emergencies, and for enhancing the disaster resilience of their communities. One of them is the
AlertSA
website, that aims at providing South Australians with an all-hazards emergency warning and information system in an online information platform. Management agencies using GIS and satellite and aerial imagery and aided by community-based and crowdsourced support can more easily target their efforts where it is most needed. Crowdsourced geotagging of images can be an efficient way of managing large amounts of image-based information. In the aftermath of the very recent Hurricane Sandy,
FEMA
coordinated with crowdsourced volunteers to
tag hundreds of aerial images
indicating the severity of the damage done to the properties within the pictures in order to prioritize need for the worst affected areas. Technologies can now undeniably play a crucial role not only in emergency response coordination efforts, but in mitigation and post-crisis management efforts too. And these efforts are as deep as they are wide, as are the efforts to understand the role of ICTs in emergency and to learn from and to make use of good practices in the field of ICT in emergency. The number of tech tools that have been developed seems overwhelming at times, so picking out the ones that help coordinate relief and recovery effectively may not always be a straightforward task.
Why an ICT4D Crowdmap?
A year ago whilst delving more deeply into the subject matter, we considered how we might use one of these 'tech tools' to capture the big picture of who was doing exactly what in using ICTs in emergency. The platform we chose, is amongst the more famous of tech tools for emergency:
Ushahidi"s Crowdmap
.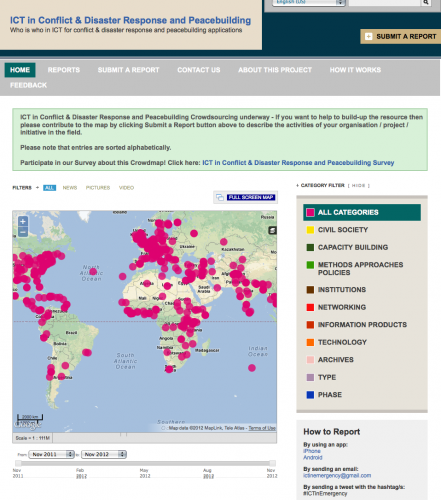 Not only could it provide the perfect platform for visualising the global picture of this field, it also allowed us to categorize projects, programmes and initiatives in such a way as to render the information much more useful than it would have been as a static map. But what was even more interesting was the idea that because it was a Crowdmap the information on it did not need to be limited to what was known to us alone; instead, it was open to anyone who had relevant information to offer – through simply submitting a report to us. Managing the knowledge of the subject matter was to be an experience for the crowd; a very exciting prospect when considering creating a global project with limited resources. What we hoped from the
ICT in Conflict & Disaster Response and Peacebuilding Crowdmap
was to create a space where those within the field could discover new and relevant tools, where they could work with others to share information and where they could learn what works as good and relevant practice in the field of ICT in emergency.
Results
What has grown from our work and the work of the crowd is an extensive repository of information (now with over 800 entries and growing) which can be used in many untold ways! The entries in the map comprise of individuals, communities, projects, government authorities, national and international NGOs and organisations who work in the same field and are sharing and promoting their developments and their ideas for and experiences with the use of tech tool in their endeavours to help and provide emergency relief and save lives. Our work has offered us tremendous insights into the realities of disaster management operations and of working in crisis and conflict areas. We have been communicating with many of our entrants and have learned about their stories from the field, their enthusiasm, successes and failures. A network of people with a wide range of expertise has come into being, often with a very different kind of expertise from the others. This overall approach, the inclusion of a broad range of tech tools and their applications, makes our map truly unique. Learn with us and happy browsing!!