That was fun! I was in France watching news about the impending blizzard.
Ryan Ozimek from PICnet
was sitting in Lake Tahoe. Ryan and his team had partnered with the Washington Post earlier this year to map the cleanup efforts after a massive snow storm hit DC. They used an Ushahidi platform and called the project
Snowmageddon
. So I sent Ryan an email about cloning the DC map to spin off
Snowmageddon NYC
and
Snowmageddon Boston
. Ryan replied within minutes and launched the new platforms overnight. We then reached out to friends in NYC and Boston and they to their friends: many thanks to
Noel Hidalgo
,
Rob Baker
,
Jennifer Huddon
,
Danielle Gould
,
Mark Belinsky
and
Nathan DiNiro
!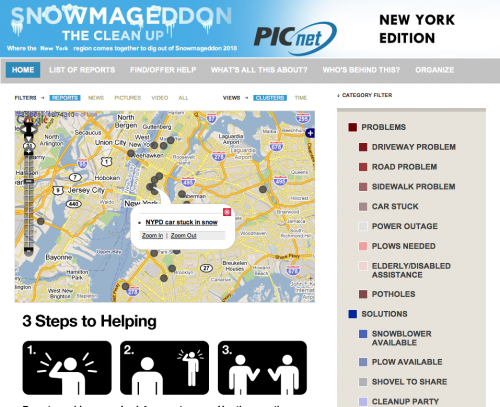 And so we got started with the mapping. It was a welcome change to be involved in an Ushahidi deployment not prompted by a major crisis. Indeed, I had a good chuckle
mapping this picture
of an NYPD car stuck in the snow near Union Station. We got the word out via Twitter (of course) so retweets were key. But the real win would be a partnership with a media group (so get in touch if you're interested!). Ryan mentioned that they started receiving dozens of reports an hour after the Snowmageddon DC map was featured on
the Washington Post website
.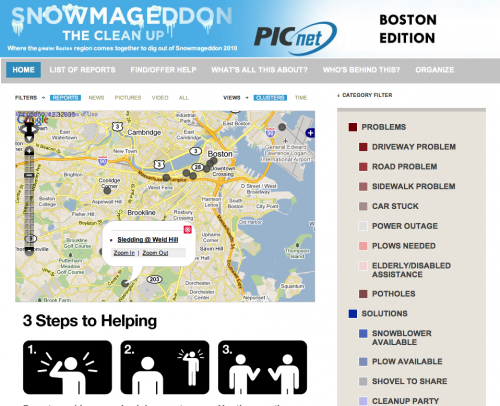 It's neat to see Ushahidi deployments like Snowmageddon DC be recycled almost effortlessly to spin off other deployments (even when using older versions of the platform like this one). Indeed, let us know if you'd like to have your own Snowmageddon map for your town or city! They're a great way to find out where the best sledding and snow ball fights (
and
cleanup parties) are happening. And the deployments can be used for future snowstorms too. (London, Paris, I'm looking at you). Now, if Santa could just get me that Ushahidi iPhone app so I can be out playing and mapping at the same time (coming soon!).