This situation room report is based on data from https://uchaguzi.or.ke as of 11th August 2022, 23:59h. Uchaguzi situation room reports will be shared regularly during election week.
Celebrations are underway in various constituencies and counties as winners of the national assembly, county assembly and gubernatorial seats are being announced. However, most of our attention is turned to the Bomas of Kenya that serves as the National Tallying Centre as we await the presidential election results announcement with bated breath.
This time round, the IEBC has been hailed for the careful execution of its duties and transparency throughout the process. With different interested parties taking to social media to share their thoughts, we've seen a rise in misinformation which has caused further confusion among the electorate.
Here are the highlights from our situation room where we are monitoring conversations and sentiments shared with us through our platforms.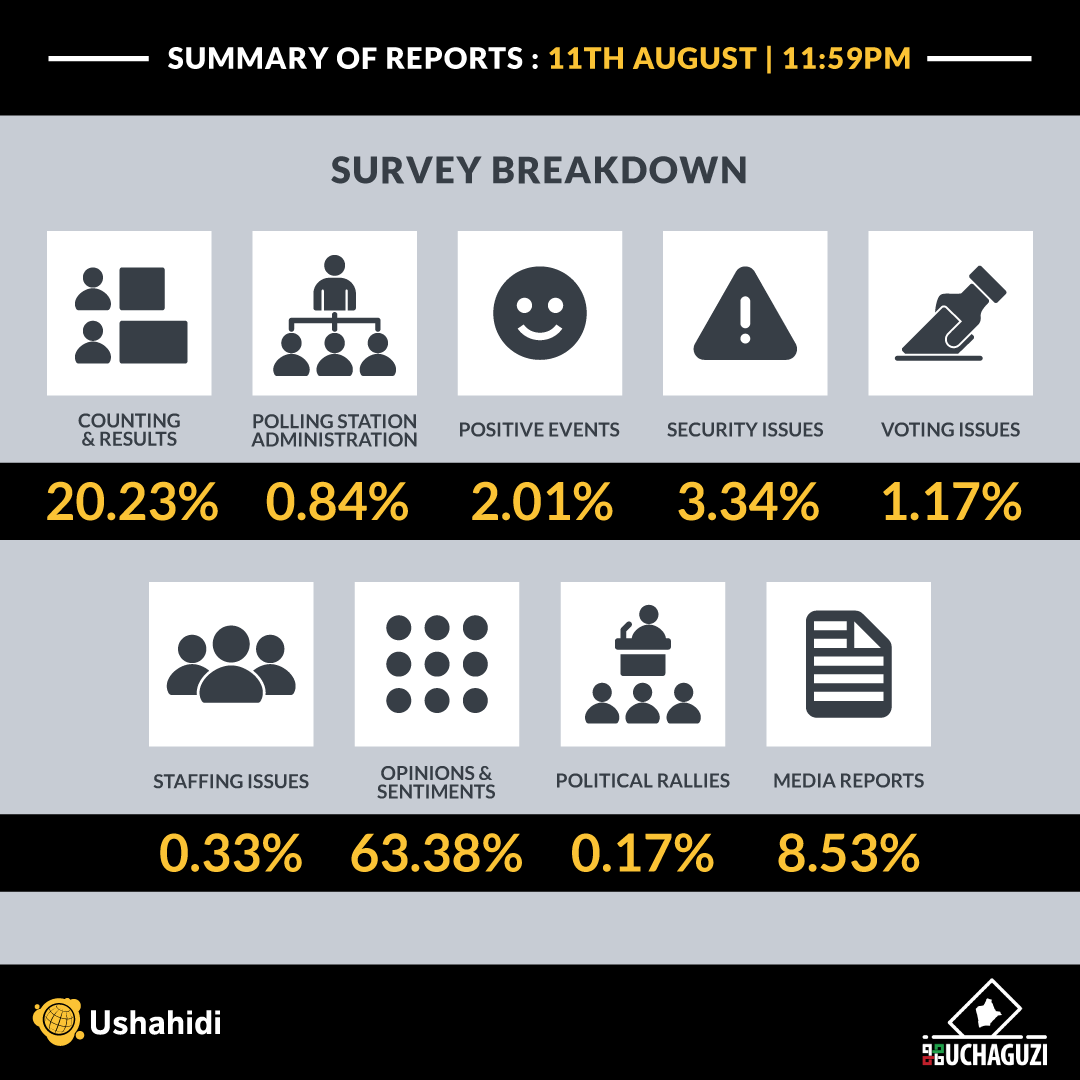 First, some positive news:
The transparency of electronic transmission of results is impressing nationals of other African countries, with many of our East African neighbours complimenting the IEBC officials and Kenyan citizens.
We are seeing a healthy practice of candidates conceding defeat on social media and congratulating the winners. This has been happening long before the IEBC or media have the official results.
Wins for Persons with Disabilities
Some people who were previously nominated to Parliament for seats of under-represented groups in society are now able to compete and win seats in their own right. This is a positive sign that voters are now focused on the leadership credentials of the aspirants.
Martin Wanyonyi becomes the first elected MP living with albinism.
On a not so ideal note, social media and private chat groups are filled with messages with conflicting tallies, causing heated debates.
Misinformation
Conflicting tallies are circulating on WhatsApp and social media platforms for presidential, Member of Parliament and Gubernatorial seats.
We are also seeing fake announcements of speeches by the Presidential candidates accepting victory. Some include fake photos.
There have been accusations that media houses are deliberately counting votes in certain ways to change and influence the optics of the election.
There have also been claims that media houses have been hacked to manipulate reporting of results
Twitter accounts of political leaders and influential people sharing misinformation on results that is picked up and shared widely on WhatsApp.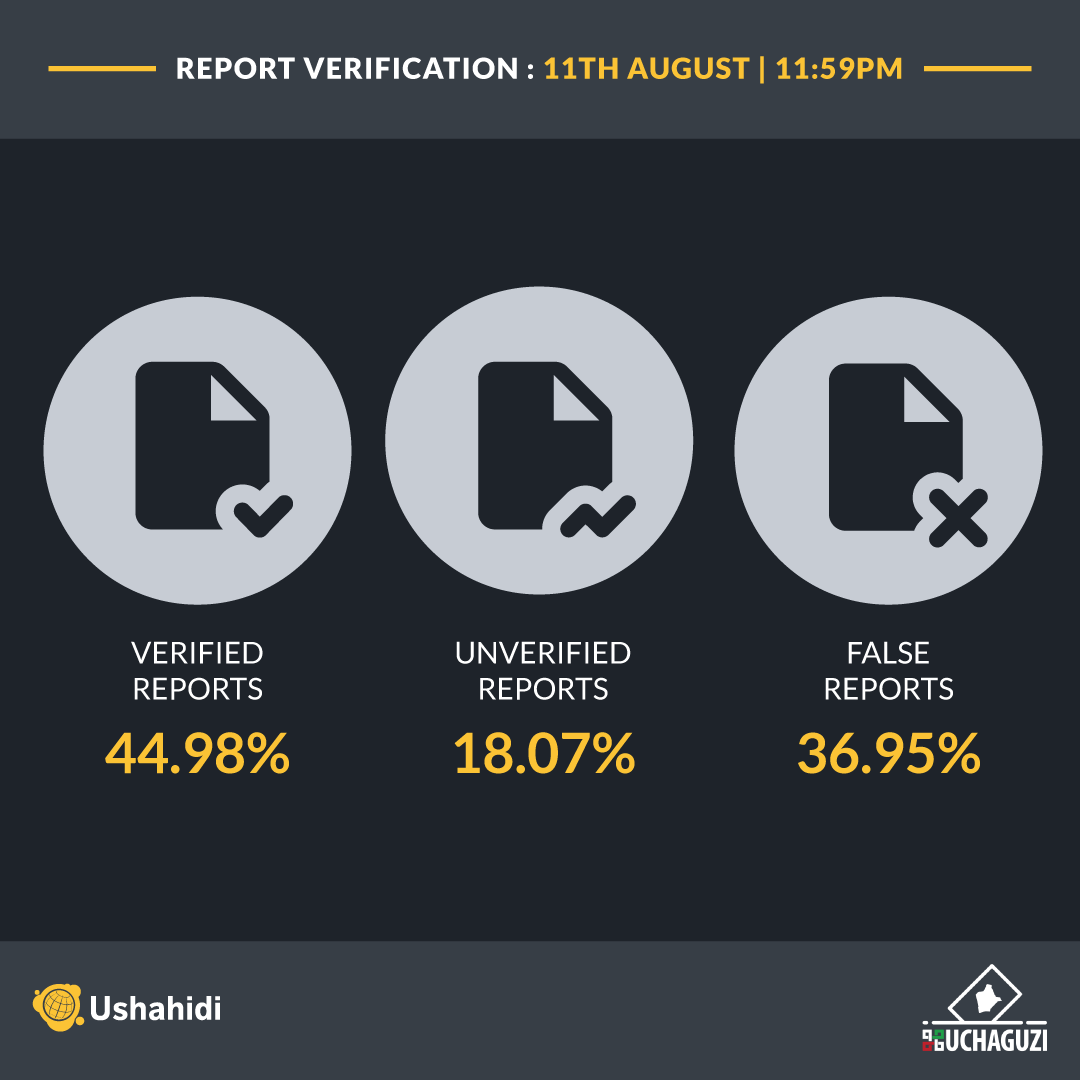 We take this opportunity to remind all of us that official results can ONLY be announced by the IEBC. This only happens after the votes have been verified.
Vote counting
Results of other non-presidential races are now being confirmed.
The verification of form 34A is currently underway at the National Tallying Centre where the original documents are being compared with the submitted images.
34B forms (containing collation of 34A documents) are slowly being released. 38.14% were available at 5:20pm on 11th August 2022.
IEBC has released a statement noting that tallying across media may vary. The commission has attributed this to:

Each is accessing the public portal of the results form at different times, and
Each is using its own criteria and sequencing among others.

The IEBC has called for patience as it finishes the tallying process.
Agents of presidential candidates have been given access to an API from the IEBC that allows them to verify results on their own.
Have any feedback or questions on this sitroom #5 report? Share with us through our social media platforms. But also:
Share your Uchaguzi reports with us!
For those in Kenya, please share any concerns you notice via the following channels:-
Toll-free SMS: 23102
USSD: *603#
Whatsapp: +254 790 573949
or visit https://uchaguzi.or.ke to submit a report via web.