This situation room report is based on data received from https://uchaguzi.or.ke as of 9th August, 2022 11:59h. Uchaguzi situation room reports will be shared on a regular basis during election week.
Yesterday, Kenyans lined up in polling stations across the country to vote. The Independent Electoral and Boundaries Commission (IEBC), however, noted that turnout appeared lower than usual, with about 56% of registered voters casting their ballot by 4pm. In true Kenyan fashion, many voters rushed to the polling stations just before the voting period ended.
We monitored conversations on social media and submissions through the toll-free USSD *603# and SMS line 23102 to bring you the latest report from our situation room.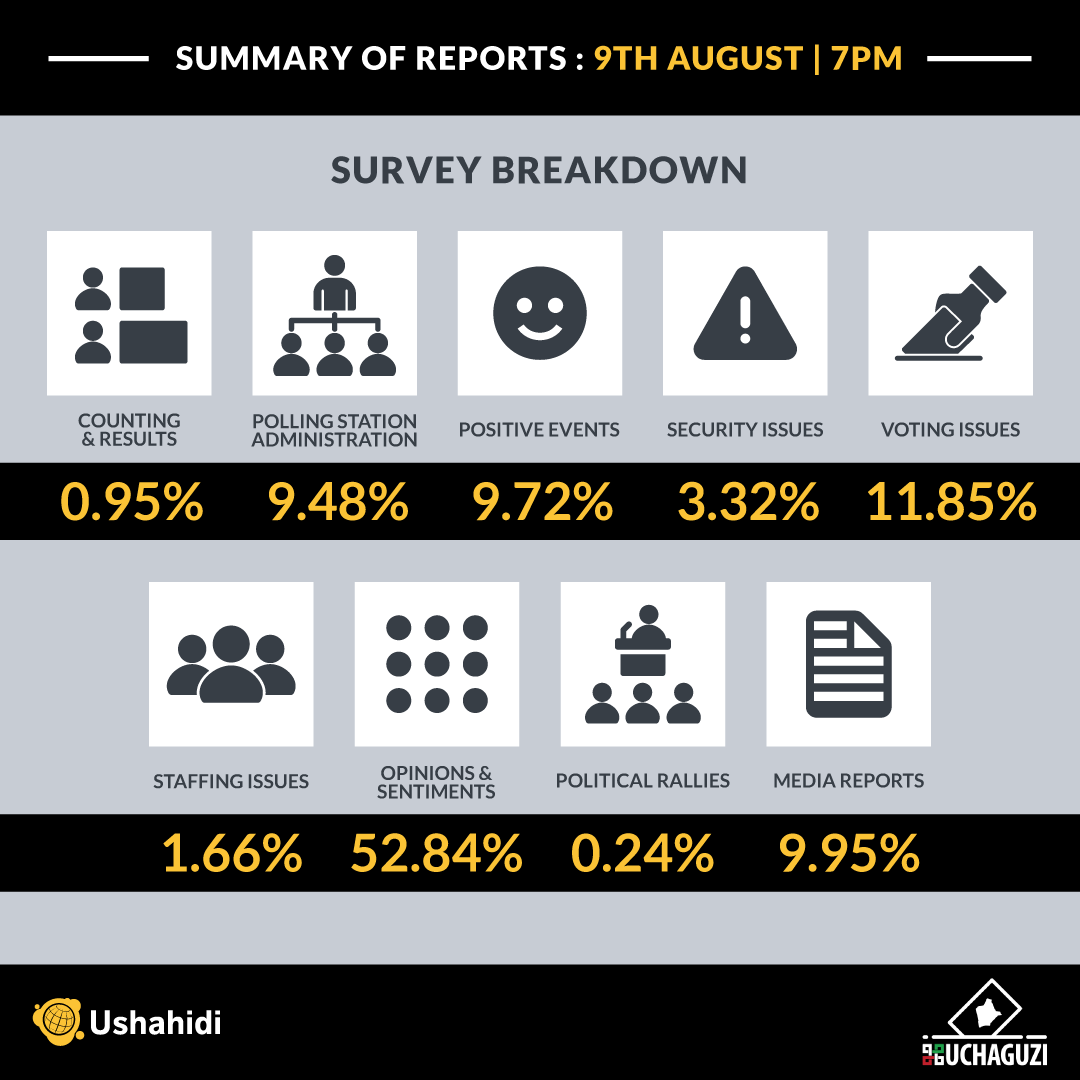 Verification Status of reports received.
We were able to verify 46.15% of the reports coming in. 52.01% remained unverified while 1.83% were noted as false. We verified 10% of the reports through our trusted observers on the ground while 23% through corroborating evidence from social media and mainstream media platforms.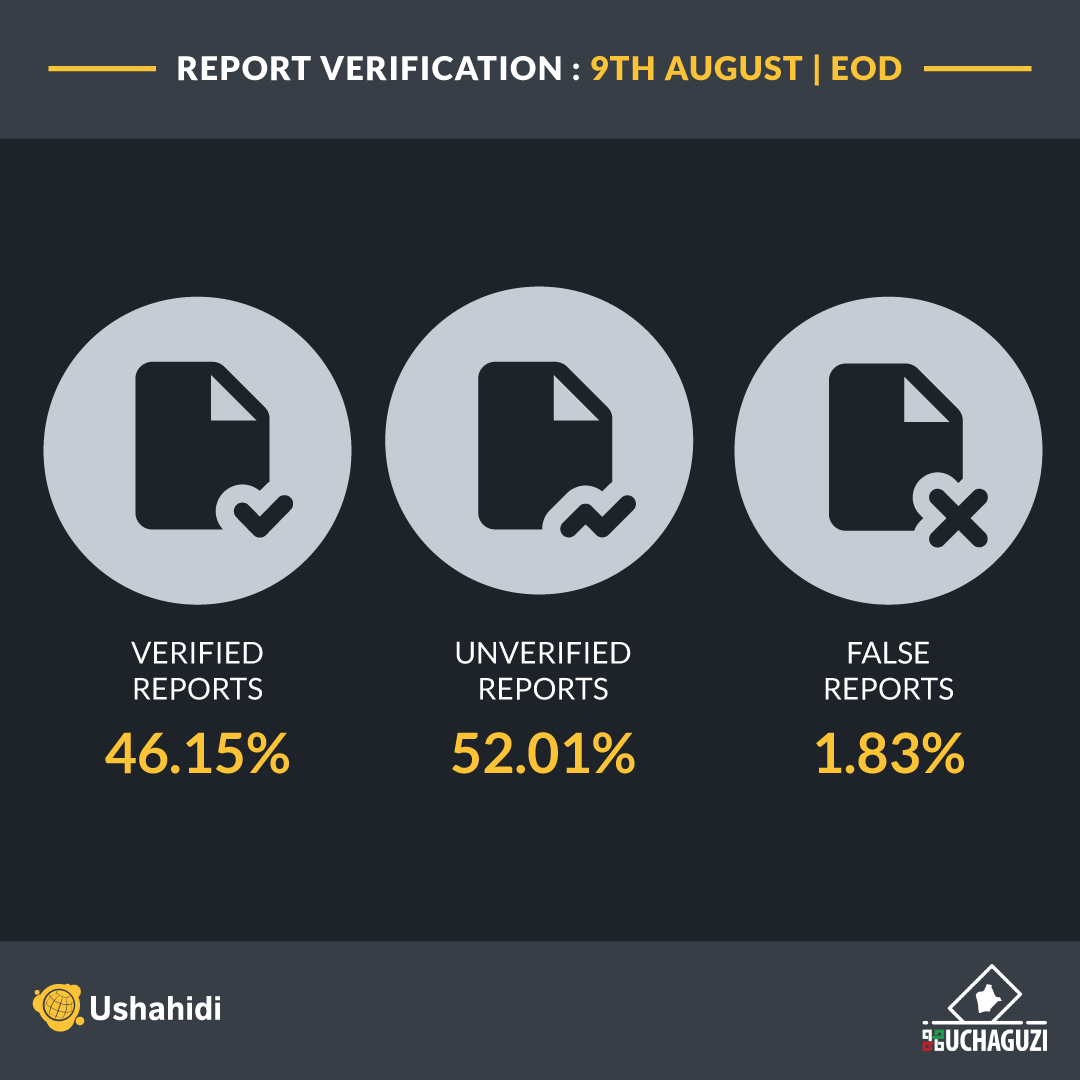 Voting issues
Most of the issues reported came from Nairobi, with over 50% coming from the regions, and other reports dotted sparingly across Bungoma, Kakamega, Meru, Embu and Nakuru and Mombasa.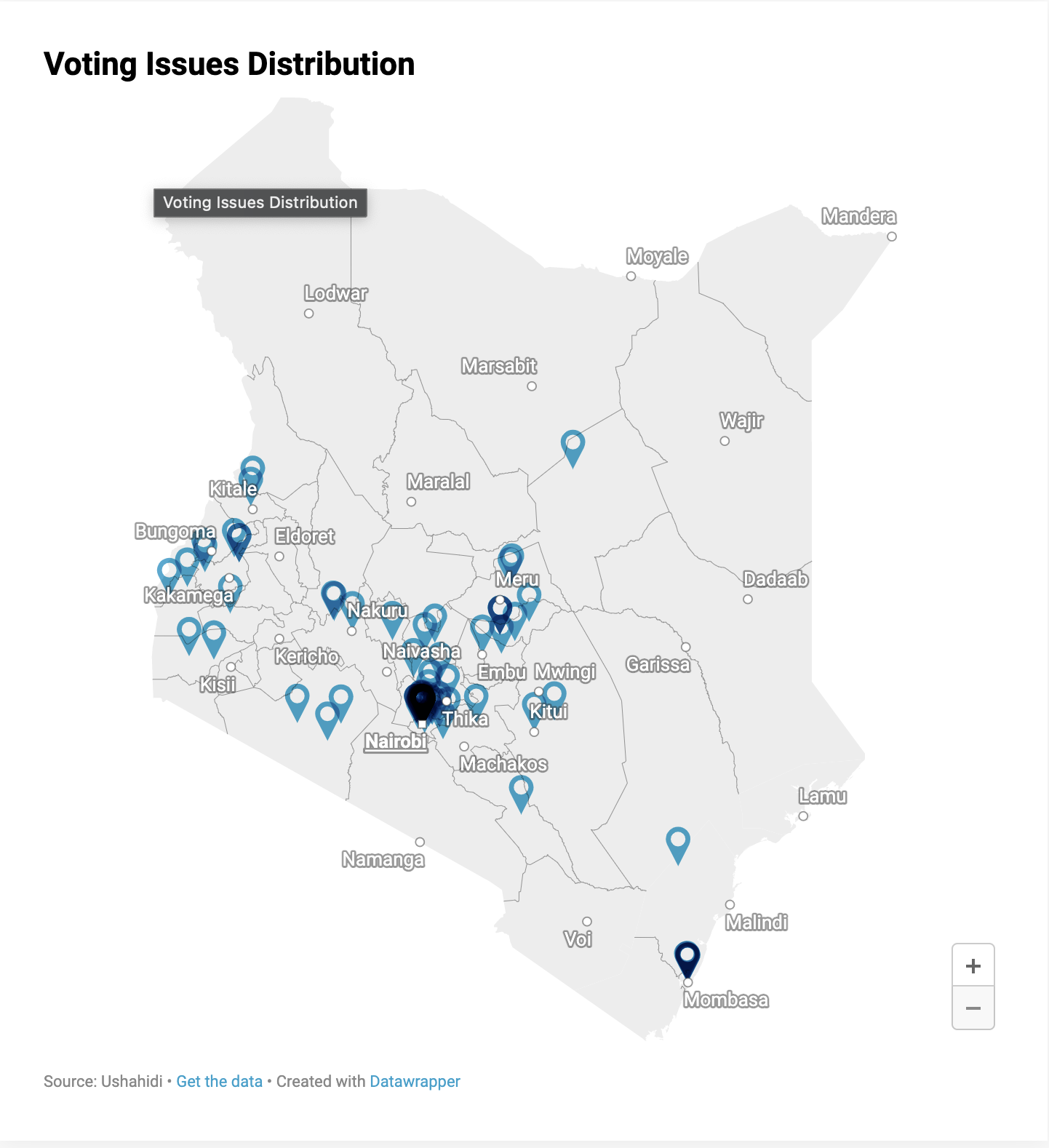 Majority of the issues reported noted the failure of the KIEMS kits which resulted in delayed voting. In the event of failure, voting clerks used the manual register that the Court of Appeal ruled would be used as a backup for voter verification.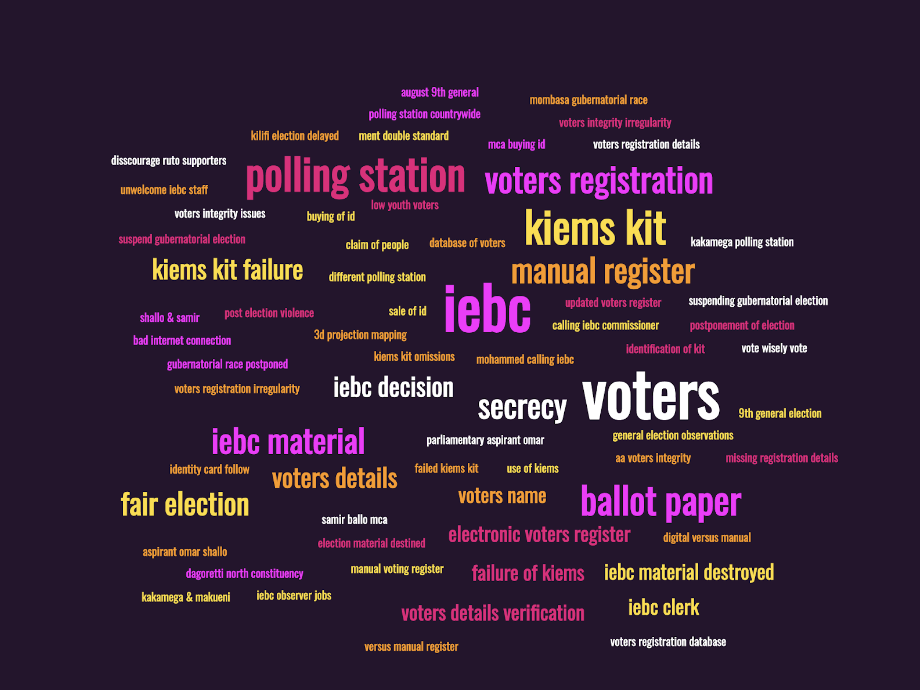 Here are some of the voting issues that were reported through media, social media and by our observers stationed in various polling centres:
84 polling stations in Makueni and 154 polling stations in Kakamega did not have the manual voter registers available.
200 reports of failure of the IEBC KIEMS kits in Matungu, Kisumu, Nairobi and other parts of the country.
Perception of low voter turnout across Kenya (less 60% by 4pm). A citizen in Mt. Kenya region reports that there has been a low turnout of voters in polling stations.
There was commotion in the Gatina primary polling station, Dagoretti North constituency after it was alleged that an IEBC clerk issued four MP ballot papers to one voter.
IEBC says Mombasa and Kakamega gubernatorial races will be held on August 23 due to unprecedented ballot papers mix-up.
Security Issues
There was a standoff between Jubilee and UDA teams at Kirimunge Primary School in Kirinyaga Central after some forms were sent by IEBC using a bodaboda.
Al Shabaab militias reported to have attacked a police camp at Qarsa, Wajir County.
IEBC Commissioner Francis Wanderi announced that elections in Eldas, Wajir county have been adjourned due to security reasons. Voting shall commence on 10th August 2022 at 6AM.
A police vehicle with election materials was attacked at Khorof, Wajir County but voting proceeded.
Police officers in Bungoma County have launched a hunt for Kimilili Member of Parliament Didmus Barasa after he allegedly shot dead his opponent Brian Khaemba's aide.
Voting experience for persons with disabilities
There were 3 reports of negative experiences in polling stations from people with disabilities via SMS. Most noted that they had a hard time accessing the centres. In addition, some shared that there wasn't any system in place to assist them with the voting process.
One voter reported that they had a hard time accessing the voting booth while another shared that they had to ask for assistance to get to the polling station. In both incidents, the reporters were linked to their respective NCPWD county representatives for additional support.
People living with blindness expressed a need to have someone to help them during the voting process.
There was a positive response from Juja polling center in Kiambu county. Sammy Brayo who was born without arms was able to cast his vote using his leg.
A survey was conducted around between 13th July and August 10th where we had 504 reports. Among those 289 were people with disabilities.
The surveys sent out sought to check the confidence of the citizens with IEBC. 77% of PWDs who responded expressed confidence in the IEBC. 5% expressed a lack of confidence, and 18% were not sure.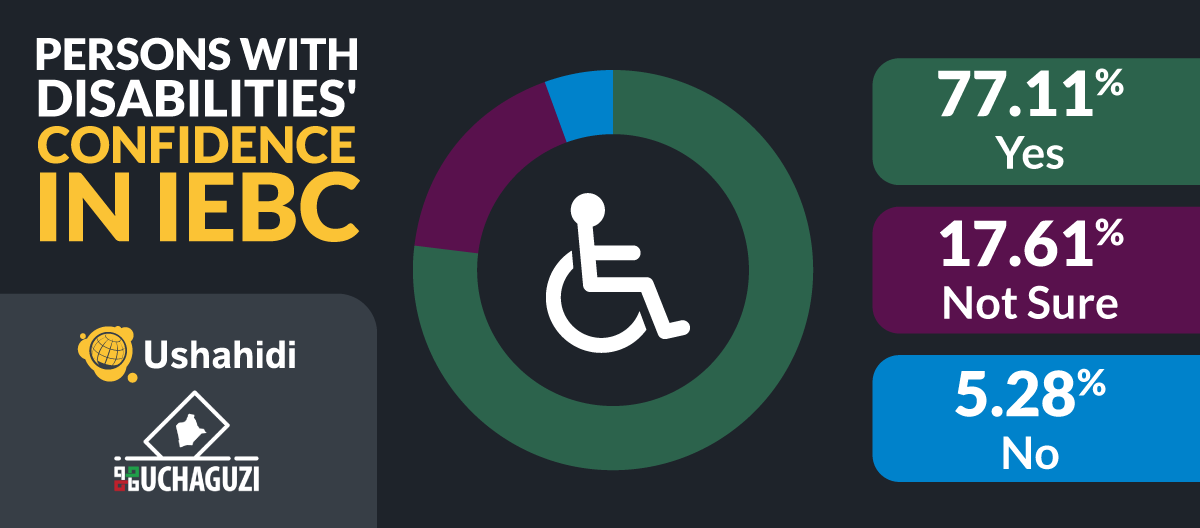 Share your Uchaguzi reports with us!
For those in Kenya, please share any concerns you notice via the following channels:-
***Toll free SMS: 23102 ***
***USSD: *603# ***
*Whatsapp: +254 790 573949 *
or visit https://uchaguzi.or.ke to submit a report via web.