***This situation room report is based on data received from https://uchaguzi.or.ke as of 9th August, 2022 06:00h. Uchaguzi situation room reports will be shared on a regular basis during election week. ***
On 9th August, 2022, many Kenyans took to the polls for General Elections. As is the case with every Kenyan election since Ushahidi's inception in 2008, the team has co-convened the Uchaguzi project in partnership with ELOG Kenya and 20 other partner organisations. The goal is to empower ordinary Kenyans to share real-time information around the elections and for actionable information to be escalated for rapid response and action.
By providing a toll-free USSD *603# and a toll-free SMS number 23102, Uchaguzi 2022 aspires to:
Encourage Kenyans, especially the youth, who are the majority, to report any election-related incidents and concerns before, on, and after the election day. Active citizen participation throughout the electoral cycle, and not just on the material day, will increase overall transparency and accountability
Prevent violence through a system of early warnings and rapid responses
Combat disinformation and fake news
Monitor the potential of internet shutdowns and media blackouts during the election
Document the voting experiences of persons with disabilities, in partnership with The National Council for Person With Disability NCPWD
Since 1st August, 2022, a team of dedicated staff, volunteers and civil society partners have been convening in our Election Situation Room(ESR) to monitor citizen reports during this election period.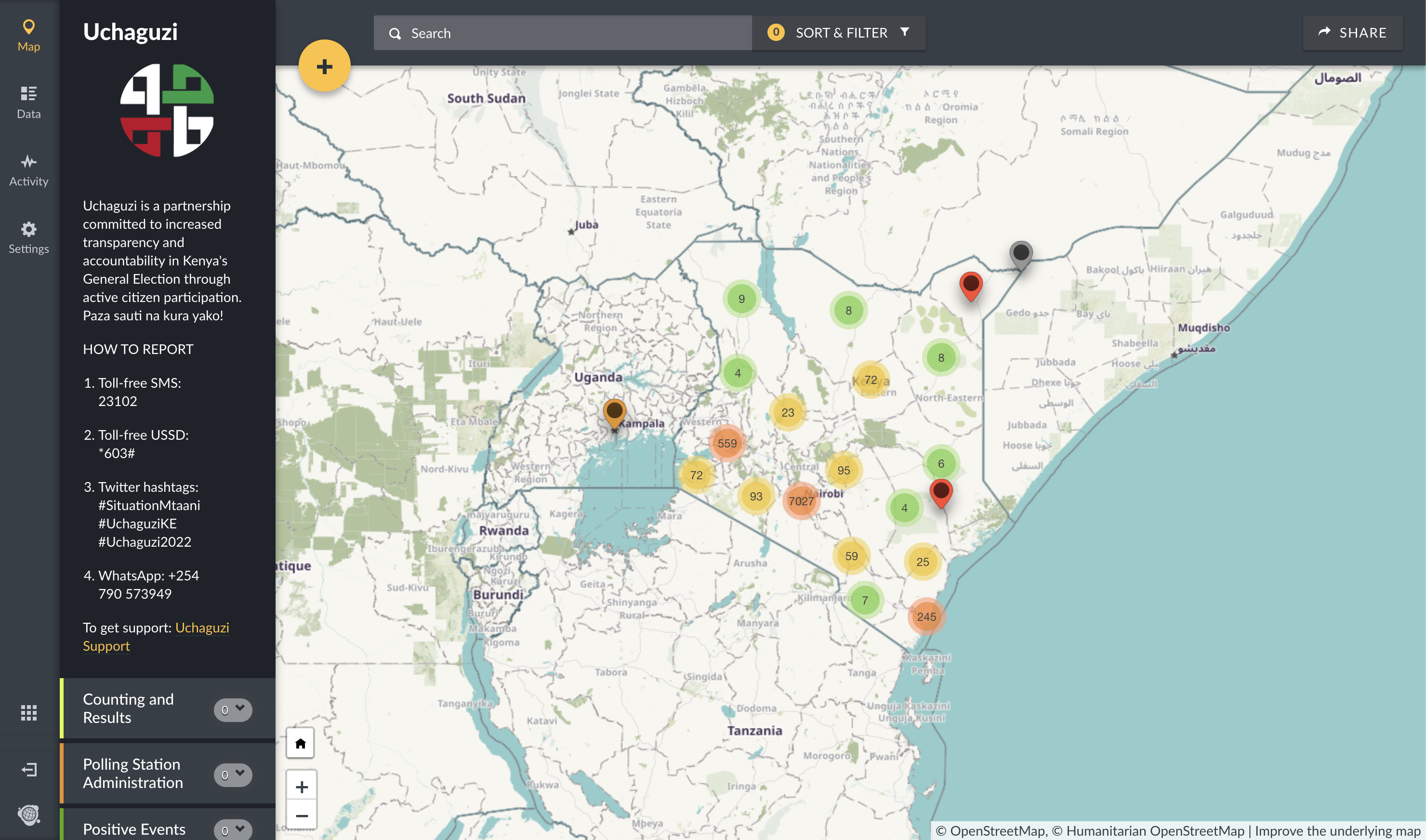 NB: Volunteer data teams continue to structure, review, geolocate and publish relevant reports, as described in the Uchaguzi data workflow process.
Status as of 9th August 2022, 00:00h
We collected 29,998 reports from SMS, Social Media, USSD and Web, broken down as shown below.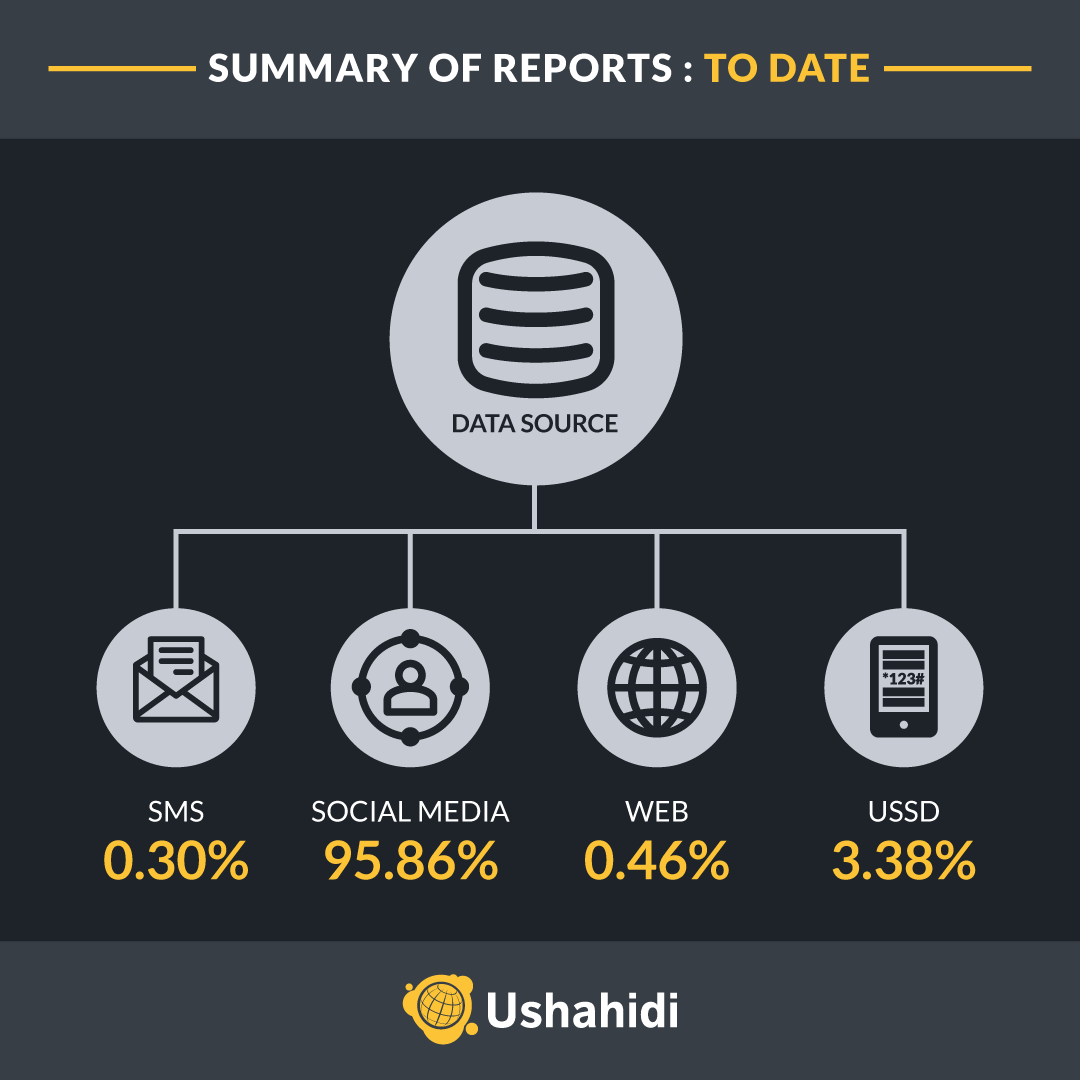 Below is a summary of findings from responses via our *603# USSD Code.
71% of the responses expressed confidence with IEBC, with about 20% saying they are not sure and about 9% expressing their dissatisfaction.
85% said that they will be voting in the general elections, 9% weren't sure whether they'll vote and 6% said they will not be voting.
Observers in 30 counties report the following:

35% report voter issues
25% report campaigns on election day
20% report media reports
13% report insecurity
Reports of voting issues started streaming in late last evening
The IEBC called off elections in the following areas:

*Gubernatorial in Mombasa County
*Gubernatorial in Kakamega county
*National Assembly in Kacheliba
*National Assembly in *West Pokot
*National Assembly in Rongai, Nakuru

IEBC materials destroyed in Chuka and Embu.
5 IEBC officials arrested for malpractice in Bungoma, Homabay over allegations of canvassing with one of the candidates
Election management system stolen at a Orani Public School, Moyale constituency while it was charging.
Ballot paper mix-up: Kirinyaga gubernatorial ballot papers found in Mumias; Rongai, Nakuru National Assembly papers mixed up with Kuresoi North papers.
Voters were not able to vote at Museno primary school Shinyalu constituency in Kakamega due to KIEMS kit error.
Three voters turned away by the IEBC clerks in Garissa town's Young Muslim Primary School after they could not be identified through the KIEMS.
Court Rulings
The Court of Appeal rules that the primary mode of identification will be KIEMS kit and if one cannot be identified, IEBC will turn to the back-up manual register.
Security Concerns
Wajir: Eldas constituency development fund tallying center - gunshots exchanged between armed police and unknown persons
Eldoret: One person shot in Eldoret when a group of young people tried to stop a white V8 they suspected was carrying ballot papers.
Kibera: Residents reported insecurity in the early morning hours
Status of internet connectivity
Access to information is essential during the electoral process. Ushahidi has collaborated with Tor and OONI to monitor the risk of potential internet shutdowns or interference during the Kenya general elections. Results from OONI Probe indicate that commonly used websites across categories communication, circumvention tools, file sharing, human rights issues, political criticism, environment, public health, search engines among others remain live with no interruptions. We shall continue to update this status during and after the electoral process.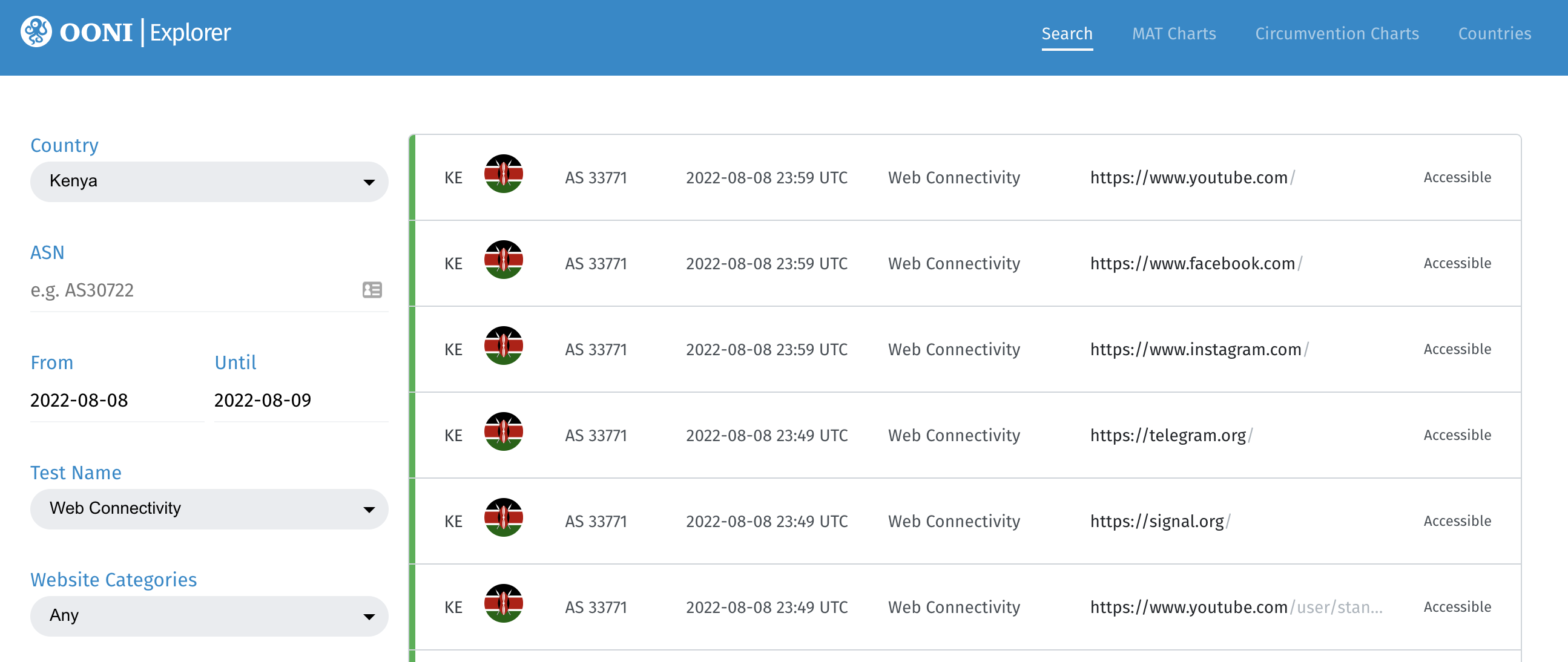 Share your Uchaguzi reports with us!
For those in Kenya, please share any concerns you notice via the following channels:-
1. TOLL FREE SMS: 23102
2. USSD: *603#
3. Whatsapp: +254 790 573949

or visit https://uchaguzi.or.ke to submit a report via web.