It's not everyday that you get the opportunity to run a marathon alongside The Big Five (Kenya's infamous gang of lions, elephants, leopards, rhinos, and cape buffalo)—but this weekend was a rare exception. On Friday, a caravan of employees from Ushahidi, BRCK, and the iHub piled into Land Rovers and headed north to the
Lewa Wildlife Conservancy
. Lewa Downs is home to the annual
Safaricom Marathon
and Half Marathon, a punishing yet stunningly beautiful trek through the heart of northern Kenya.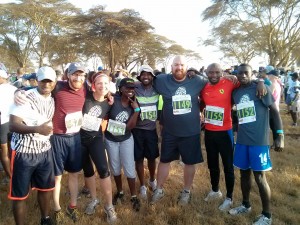 About ten team members completed the half, including Ushahidi Board Member Erik Hersman. The course—which weaves through the bush at over 5,500 feet—has been called, "One of the top ten races to run in your life." As a participant in Saturday's run, I can attest to Runner's World's lofty claim. The stark magnificence of Lewa, coupled with the strong feeling of camaraderie among the runners from over 20 nations, is simply indescribable. Our group supplemented the race with epic game drives through the reserve and an abundance of nyama choma (roasted meat). The weekend respite provided team members a chance to relax and recharge before the launch of new products like the BRCK and an updated Ushahidi platform later this year.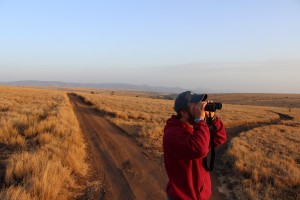 While the run and the safari seem impressive enough, our employees like to push boundaries. Determined to fight off a dangerous bout of World Cup Fever, a few engineers jerry-rigged an impressive home theatre system for the savannah powered by the BRCK. Using a handheld projector, a hybrid SUV, and a BRCK these trailblazers were able to stream the Brazil-Chile game despite being miles away from an Ethernet port or a power outlet. This is the type of ingenuity that sustains our band of innovators, hackers, and all-around technology bandits.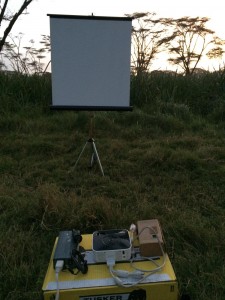 So, what's on tap for the next Lewa outing? An Ushahidi deployment to pinpoint the evasive African lion? A Crowdmap that highlights the different groups participating in the Safaricom Half? I have a sneaking suspicion that members of the Ushaverse will have some clever and inventive ideas for next year's pilgrimage to Lewa Downs.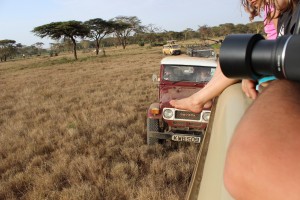 Owen Sanderson is a summer fellow with Ushahidi's business development team. He is in the middle of pursuing his MA at The Fletcher School at Tufts University and his own reflections from his summer in Nairobi can be accessed via his Tumblr (http://nairobridge.tumblr.com).