In light of all that is going on in Nairobi, I took a step back and started thinking about what it is we do here at Ushahidi, beyond the products, the code, and the community. We often get lumped into this greater industry of International Development, even though we talk about ourselves as a non-profit tech company. So I decided to try and dive a bit deeper, and try and suss out just how Ushahidi fits into this broader discussion of International Development. International Development - I was surprised when I looked up this term and found the definition to be, "improvement of the quality of life of humans;" pretty simple actually, for the biggest issues facing the world. Historically, international development involves giving financial capital from developed to developing nations, to build roads or hospitals, or giving human capital, to respond to a crisis, or teach at a school. This is important work, but it tends to be a one-way street.  But I find that technology is adding another dimension. Mobile phones, computers, they are lighting up the world. Today, I want to tell you two stories about how technology is disrupting international development. The first is the story of information technology, and how it is shifting this one-way street to a two-way street. When people have access, they are plugged into a world of democratized information and can use this data to solve problems. To get cracking on those problems, first thing people need is access to the web, to build the foundation. Then, they need tools, such as open source software. Finally, they need the raw material: the data - that building block of technological innovation. And together these elements create a platform that I think of as information capital, different than money and extra hands, but instead the information, the connection, the data, to build solutions. And when a community has that foundation, cool stuff starts to happen. To give you an example, I work for Ushahidi, a tech company that came out of Kenya. Thing is, I am an American working in San Francisco; I am not an American who travels to Kenya working on local development issues. I work out of San Francisco, the tech capital of the world, because Ushahidi's software is used in 159 countries across 35 languages. That could not have happened 3 years ago! And because of access to the Internet, open source tools, and open data we have been able to do some pretty cool stuff! Just look at this past week during Westgate. The Ushahidi team banded together and built Ping in 48 hours, an app for checking in during a crisis.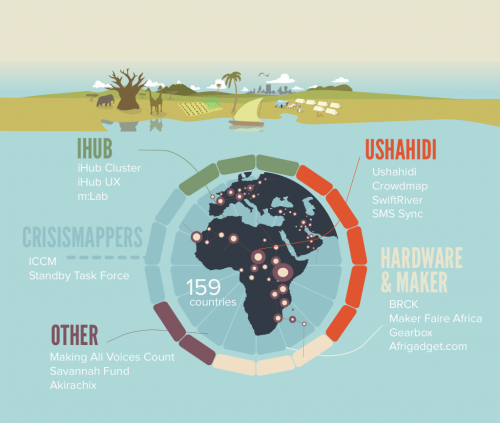 See, the world has changed. Innovation is coming from everywhere. At Ushahidi, when we got our first investment, instead of renting an office we created the iHub, a tech hub in Nairobi. After 3 years there are now over 11,000 members, 125 companies formed, and over 700 jobs created. You might have heard of the LEAN startup model – in short, keep iterating until you have solved a problem for the customer. Well who knows the problems and customs of the developing world better than those who live there? For instance, Ushahidi just launched a new product. As a tech company spread across nine time zones, it's pretty frustrating when we can't get online. We kept looking at that modem in the corner, and we realized that it was designed for the USA, for a desktop computer in a cubical with the assumption of ubiquitous electricity and fiber. That's not the reality for most of the world, nor will it be any time soon. We deal with daily power outages and typically the mobile networks are more widespread than a wired connection. So we created the BRCK. It's a redesign of the modem for the developing world. It has a battery backup that charges on any type of electricity, and has both an Ethernet port and a SIM card, and seamlessly switches between the wired network and the mobile network. It has 16G of on board storage and it has GPIO ports and runs off Arduino, so you can connect sensors and remotely monitor the data. Developers can build applications off the API too. And the point is, we were able to do this from Nairobi.
See, at Ushahidi, our dream is to see a lot more Ushahidis out there.
We are working to get people connected with BRCK, give them open source tools with Ushahidi, and help get these tools into the hands of builders at places like the iHub. We are trying to help build that foundation, those platforms, those communities. Second story of how tech affects development. Two-hundred years ago the industrial revolution begins and US and Europe's GDPs skyrocket creating wealth not seen on this planet ever before.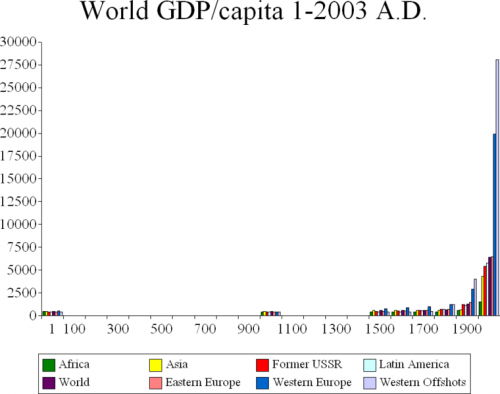 Over the past 40 years Asia, has grown their GDP by moving up the manufacturing chain, starting with textiles and up to complex industry. Forty years ago, no one in the USA would dream of buying a Toyota, now it's the most sold car in the USA.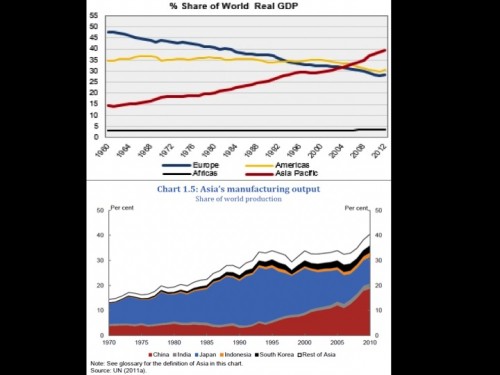 If we want to see change in development, we need to see Africa move up the manufacturing chain. We hope the BRCK is the first step in that direction, but it will be a long path. We dream of a world where you will buy a consumer electronic device made in Africa, the same way you might now use software designed in Nairobi, without a second thought. I hope we see more stories like Ushahidi and BRCK, stories of collaboration across nations, stories of technology built to solve real problems, stories of innovation coming from everywhere. I think that is how we are going to improve the quality of life for humans around the world.