I just realized that it's been 2 days since we won the NetSquared challenge and I forgot to post that here at the Ushahidi blog. My apologies. You can, however, see my original post on my own personal blog on our surprise and happiness about this turn of events.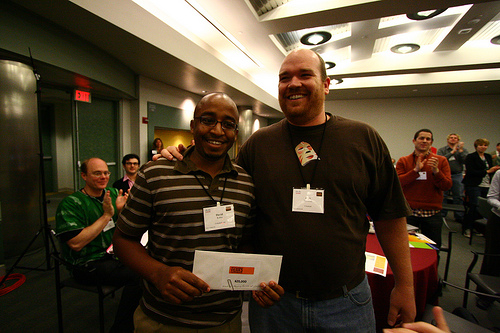 (Photo by Schipulites)
The response from the community has been overwhelming, and we're so glad that it's this same community that has helped get us here and which will take us to the next level. We're already receiving a number of emails from people wanting to help build the next iteration of the Ushahidi Engine, so thank you, and we will be in touch.
Both Ory and myself (Erik) will be in Kenya next month. If you would like to meetup there, let one of us know and we'll schedule some time to do that. We particularly want to meet with:
NGOs who would like to use Ushahidi's engine
Mobile phone experts
PHP developers
Thanks again for everyones support in getting us here. We don't think of ourselves as "owning" Ushahidi, we see ourselves as the team that manages it for the greater Kenyan and African community.